MPS Quick Links
MPS -TO- MD (2+4) Pathway
MPS –to- MD (2+4)-pathway is a six-year pathway in which the students enroll first in the MPS two-year thesis track, then they will be guaranteed an interview with the CNU college of Medicine upon achieving certain criteria.
MPS –to- MD (2+4)-pathway is the path of Physician – Scientist.
Since the USLME step 1 has become pass/fail exam, the extracurricular activities, especially research/scholar activities, became very critical in shaping the early-career physicians through improving their chances to get into a prestigious residency program.
MPS –to- MD (2+4)-pathway provides the students with a great opportunity to experience hands-on laboratory training in multidisciplinary field of Pharmaceutical and Biomedical Sciences.
Within TWO academic years of four semesters (2xFall, 2xSpring), the student must complete 31 credits of a rigorous courses of pharmaceutical, biomedical, clinical regulatory sciences and research thesis project. By successfully completing the fourth semester, the student will earn the MPS degree.
MPS students with a 3.5 cumulative GPA by the second semester of the program and a minimum MCAT score of 508 will be guaranteed an interview for a position in the CNU College of Medicine.
Students must independently submit an MD application via AMCAS.
Students must complete the CNUCOM prerequisites found in the COM general catalog and available online.
We encourage people from underrepresented group minorities in science, technology, engineering, and mathematics (STEM) to apply.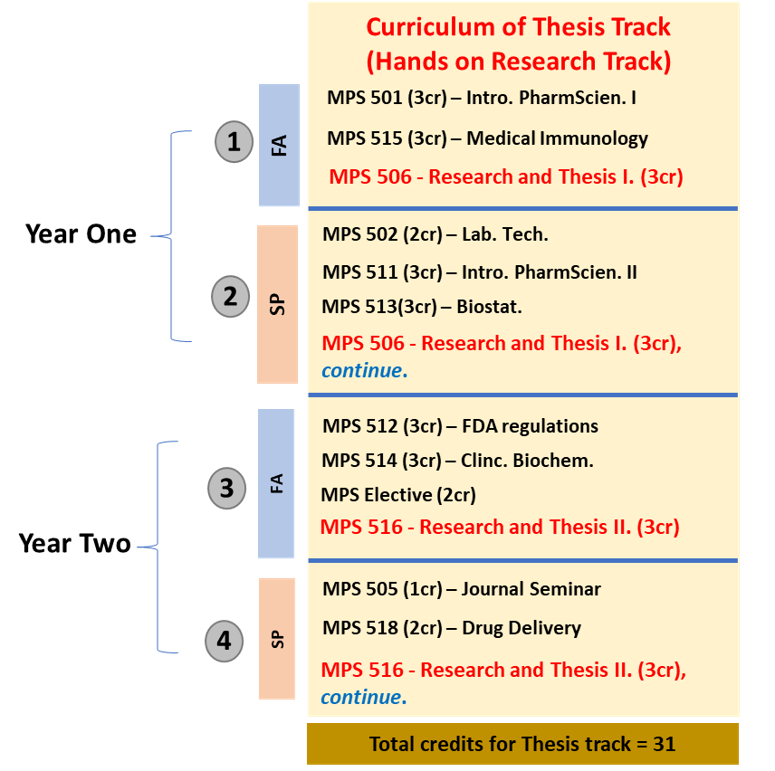 Admission Requirements for MPS Capstone Paper Track:
Application Fee: $60.
Official Transcripts: Your academic records from each college-level institution you have attended are required.
Minimum requirement GPA 3.2. Students with undergraduate degrees in the chemistry, biological sciences, and related fields are encouraged to apply.
---
Tuition Fee For The First Two Years of MPS Program
---
Total cost for the 2-Year Thesis Track = $72,120.00
Deadline
Application is now open for Fall 2024. Deadline for the application is August 16th, 2024