Quick Links
Programs & Pathways
MPS-to-MD (2+4) Pathways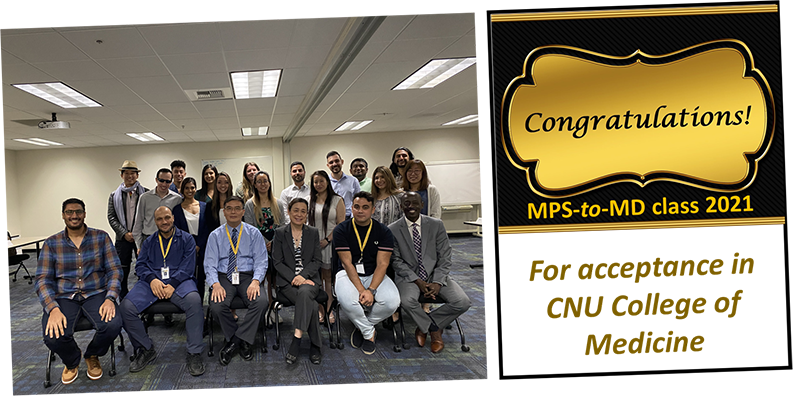 An Unique Path to Medical School to enhance the education and training of the next generation of physicians and medical doctors with special expertise and experience in pharmaceutical sciences and clinical regulations.
Provides education and training opportunities for students interested in pursuing a career as medical doctors through a six-year pathway in drug development and pharmaceutical sciences followed by progression to CNU college of Medicine.
Admission Requirements:
B.S. or B.A. degree with a minimum cumulative GPA of 3.2
Successfully pass personal interview with admissions committee from CNU-MPS Degree program and  CNU-College of Medicine
In order to matriculate in CNU College of Medicine students should:
Earn a cumulative MPS Program GPA of at least 3.5 by the spring term of the year prior to matriculation at CNUCOM
Must be in good academic and professional standing.
Students must  maintain full-time status at MPS program. 
Participate in at least one CNUCOM campus activity per year while attending the MPS program. 
Submit a primary AMCAS application to CNUCOM and a Supplemental Application to the CNUCOM Office of Admissions upon request.  
 Successfully complete the CNUCOM Prerequisites, found in the General Catalog and available online.  
 Score a 508 or higher on the MCAT.  
 Receive a favorable assessment in the CNUCOM admissions interview.
Meet California requirements for professional licensure.  
---
Deadline
Application for Fall 2022 is now opened until August 1st, 2022. The online application must be fully completed to be accepted